Home
First NH Supportive…
First NH Supportive Housing Institute Starts in January 2020
January 24, 2020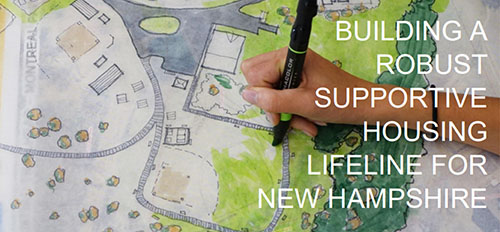 Twenty New Hampshire nonprofits were selected to participate in the first New Hampshire Supportive Housing Institute. Organized as teams, they will receive training on building new supportive housing and increasing affordable housing for specific populations in their regions. The institute is sponsored by New Hampshire Housing Finance Authority in partnership with other funders, and is presented by CSH (Corporation for Supportive Housing).
Supportive housing is a proven model that integrates affordable housing with enriched services to help vulnerable citizens such as seniors, people experiencing chronic homelessness, and individuals with intellectual and developmental disabilities.
The institute is a result of a supportive housing-focused community charrette led by CSH October 29-30, 2019 in Concord. It was sponsored by NHHFA and other public and private partner organizations. The charrette is a highly focused and action-oriented planning process. The charrette participants, a diverse group comprised of social service providers, housing developers, city welfare officials, state employees, parents and citizens, demonstrated a strong commitment to the issue of supportive housing and social need. Across two intense days of community discussion, many issues were presented and discussed. The charrette process illustrated that despite funding constraints, there is a need and desire to expand access to both affordable and supportive housing. The full charrette report, including recommendations for future actions, can be found on the NHHFA website.
The Supportive Housing Institute runs from January to May 2020 with monthly two-day intensive courses. The goal of the training is to reduce the amount of time it takes to fund a project by building a strong team that can navigate the complex process of developing supportive housing. The teams, which represent a mix of urban and rural communities, will receive customized technical assistance as they create detailed supportive housing development, management and specialized services plans.
"The institute will encourage the development of new housing and services, helping individuals in need to achieve stability and thrive in their communities," said Dean Christon, executive director of New Hampshire Housing.
2020 New Hampshire Supportive Housing Institute Teams:
Concord Coalition to End Homelessness in partnership with Fellowship Housing and CATCH Neighborhood Housing
Population: people experiencing chronic homelessness and/or with mental illness
Community Action Program Belknap-Merrimack Counties
Population: low-income seniors
Community Bridges in partnership with Independent Living Concord and CATCH
Neighborhood Housing for individuals with intellectual and developmental disabilities
HAVEN and Dover Housing Authority
Population: Survivors of domestic violence
Lakes Region Community Services in partnership with Lakes Region Community Developers
Population: Individuals with intellectual and developmental disabilities
City of Manchester Health Department in partnership with Families in Transition-New Horizons, NeighborWorks Southern NH, Mental Health Center of Greater Manchester, The Way Home and 1269 Café
Population: Individuals experiencing chronic homelessness and/or mental illness and substance use disorders
Community Action Partnership of Strafford County in partnership with Rochester Housing Authority
Population: Seniors 62 and older
Our Place, Inc. in partnership with Community Partners and Central Falls Realty
Population: Individuals with intellectual and developmental disabilities
Sponsors of the New Hampshire Supportive Housing Charrette and Institute include:
New Hampshire Housing Finance Authority
Northern New England Housing Investment Fund
Granite United Way
New Hampshire Charitable Foundation
New Hampshire Community Development Finance Authority
New Hampshire Endowment for Health
New Hampshire Department of Health and Human Services
Housing Action New Hampshire
_______________________________
About New Hampshire Housing: As a self-supporting public corporation, New Hampshire Housing Finance Authority promotes, finances and supports affordable housing. NHHFA operates a number of rental and homeownership programs designed to assist low- and moderate-income persons with obtaining affordable housing. Since its inception, NHHFA has helped more than 46,000 families purchase their own homes and has been instrumental in financing the creation of almost 15,000 multi-family housing units.
NHHFA.org | #NHHFAHousing | Facebook @NewHampshireHousing | Twitter @NHHFA
About CSH: CSH looks to advance solutions that use housing as a platform for services to improve the lives of the most vulnerable people, maximize public resources and build healthy communities. In New Hampshire, CSH is working with communities to stimulate the creation of supportive housing. Learn more about CSH at www.csh.org.