Home
About
About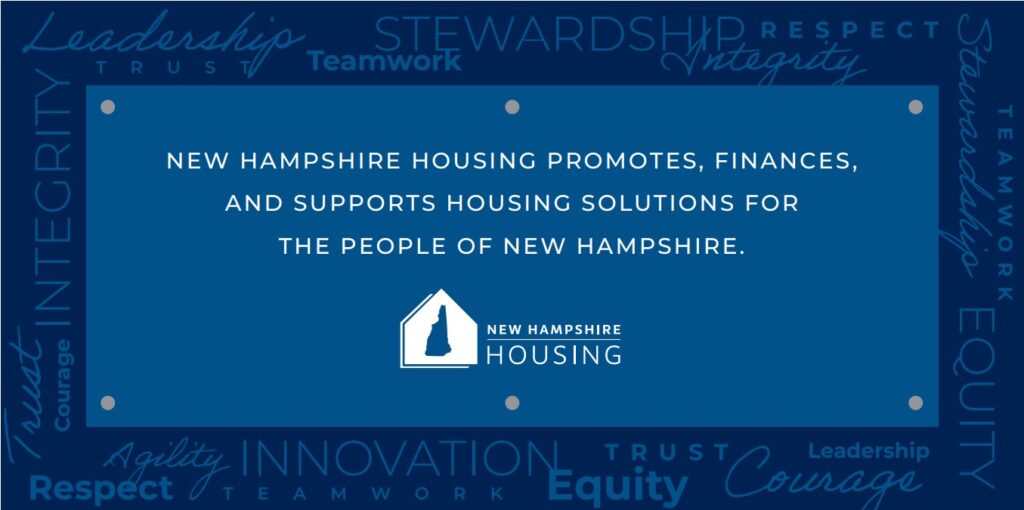 New Hampshire Housing is a self-supporting public corporation that promotes, finances, and supports housing solutions for the people of New Hampshire. We operate rental and homeownership programs designed to assist low- and moderate-income persons with obtaining affordable housing. We have helped more than 55,000 families purchase their own homes and been instrumental in financing the creation of more than 16,000 multifamily housing units.
Established by statute in 1981, New Hampshire Housing receives no operating funds from the state government.
MISSION STATEMENT: New Hampshire Housing promotes, finances, and supports housing solutions for the people of New Hampshire.
VISION  STATEMENT: A New Hampshire where everyone can afford a place to call home.
VALUES
Leadership: Motivate and inspire others and ourselves to proactively work together towards achieving common goals.
Teamwork: Collaborate with and respond to each other and our partners to identify and exploit opportunities to achieve our common goals.
Stewardship: Exhibit prudent, ethical, and transparent use of public resources and a commitment to environmental, economic, and social sustainability.
Integrity: Be honest, accountable, and reliable in all matters and demonstrate actions that will inspire the trust of others.
Respect: Treat everyone we encounter with dignity; be inclusive, candid, and open in our communications and behavior.
Innovation: Think objectively and listen with open minds, raise questions, challenge assumptions, and encourage creativity.
Agility: Be vigilant and alert; adapt to changing conditions, opportunities, and challenges.
Trust: Assume positive intentions and demonstrate the belief that others will meet their commitments and do their jobs.
Equity: Strive to ensure transparent access to New Hampshire Housing's opportunities and resources for all New Hampshire residents.
Courage: Take appropriate risks in service of the mission; acknowledge the inevitability of occasional failures and the desire and ability to learn from them.