Home
Projects
Projects
---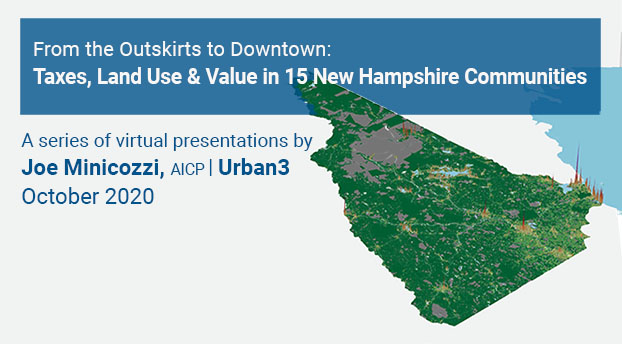 FROM THE OUTSKIRTS TO DOWNOWN: TAXES, LAND USE & VALUE IN 15 NEW HAMPSHIRE COMMUNITIES – Analysis by Joe Minicozzi of Urban3
What types of development create the greatest tax revenue for New Hampshire communities – suburban sprawl and big box stores, or dense, downtown development? In New Hampshire, property taxes are the key revenue source for New Hampshire's local governments. Tax rates, land use and land value from one end of town to the other often vary in surprising ways.
To better understand the economic and policy implications of these three property tax elements, New Hampshire Housing contracted with Joe Minicozzi of Urban3 to analyze what types of development create the greatest tax return in 15 communities around the state.
By using these data to create 3D visualizations, Urban 3's analysis reveals the potential for improving the fiscal health of each of these 15 communities. The visuals show what types of development create the greatest tax return for communities, and create a clear and data-driven understanding of the economics of place. With these 3D depictions of its data, a community can use this as a tool to make public policy adjustments, with the goal of creating long-term financial resiliency.
New Hampshire Housing contracted with Urban3 to analyze the property tax revenues of Berlin, Claremont, Concord, Dover, Exeter, Hanover, Hudson, Keene, Laconia, Lebanon, Nashua, Pelham, Peterborough, Portsmouth and Rochester. (In 2018, the Orbit Group hired Urban3 to conduct an analysis of Manchester.)
Joseph Minicozzi, AICP is the principal of Urban3, which looks at how land is used and affects tax productivity. He is an urban planner who utilizes new ways to think about and visualize land use, urban design, and economics.
Statewide Report (video & PDF)
Interactive-NH-Urban3-Report-2020
Seacoast (video & PDF)
Upper Valley (video & PDF)
Southern Tier (video & PDF)
Southwest (video & PDF)
---

CNU PROJECT FOR CODE REFORM

The Congress for the New Urbanism (CNU) is working with New Hampshire Housing to extend its Project for Code Reform to New Hampshire. This year-long project will make recommendations for changes to the state's local land use statutes and provide accompanying language for local ordinances and regulations. New Hampshire Housing has assembled a team of stakeholders to advise us along the way. For an example of CNU's work, see their recent project in Vermont.
Resources
Stakeholder Kick-off Meeting (8/10/2020)
Contact: Ben Frost | bfrost@nhhfa.org
---
SMALL-SCALE DEVELOPMENT WORKSHOP & BOOT CAMP

In 2020, NH Housing co-sponsored with Build Maine a four-part virtual workshop to encourage interest in small-scale housing and mixed-use development around the state.
The Incremental Development Alliance (IncDev) workshops on small-scale real estate development take a big-picture view of neighborhood-based development to help attendees analyze what makes a good project, how a building makes money, and how small developers interact with professionals in the built environment. The goal is to help aspiring developers feel more prepared to take the first steps on their own project.
The next phase of the IncDev Small-Scale Developer training series is its Boot Camp. Building on the workshops and seminars, this Small-Scale Developer Boot Camp gives participants an opportunity to apply training to their actual development project through exercises like building and refining their pro forma, creating an investor proposal package, and drawing out the zoning parameters for their lot. Participants also practice pitching their project to the group and instructors.
The Boot Camp, taught by Bernice Radle and Monte Anderson. Bernice is a Senior IncDev faculty, founder of Buffalove Development, Little Wheel Hustle and Build Maine speaker alumna. She's also an excellent instructor with a wide-range of experience and insight into small-scale development. Monte is also a Senior IncDev faculty, and an experienced Realtor, developer, and new urbanist in Texas. More on Monte here and here.