Home
Projects
Projects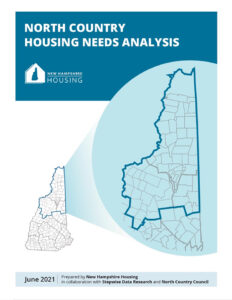 The North Country Housing Needs Analysis was undertaken over 12 months to provide a comprehensive review of the housing needs of New Hampshire's North Country, with a focus on Coös County. It includes research, focus groups interviews, and surveys. Interviews with community stakeholders, including residents, housing professionals, social service providers, business leaders and housing advocates, show the impact of regional housing trends on the lives and livelihoods of North Country residents. The interviews also helped to identify housing practices and solutions as they have emerged in local communities. 
Additionally, the impact of the coronavirus pandemic on the North Country's housing market was evaluated, recognizing the historic rise in prices and sales and the implications of those changes.
The North Country Housing Needs Analysis was a joint effort of New Hampshire Housing, North Country Council (NCC), and Stepwise Data Research. Funding was provided by the Neil and Louise Tillotson Fund at the New Hampshire Charitable Foundation, NCC, and New Hampshire Housing. NCC is one of nine regional planning commissions in New Hampshire and serves in an advisory role to local governments to promote coordinated planning, orderly growth, efficient land use, transportation access, and environmental protection.  
---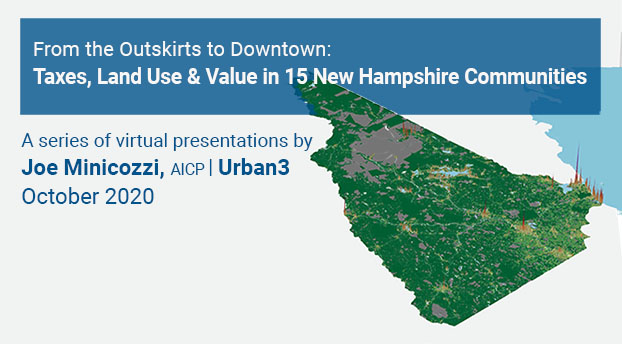 FROM THE OUTSKIRTS TO DOWNOWN: TAXES, LAND USE & VALUE IN 15 NEW HAMPSHIRE COMMUNITIES – Analysis by Joe Minicozzi of Urban3

What types of development create the greatest tax revenue for New Hampshire communities – suburban sprawl and big box stores, or dense, downtown development? In New Hampshire, property taxes are the key revenue source for New Hampshire's local governments. Tax rates, land use and land value from one end of town to the other often vary in surprising ways.

To better understand the economic and policy implications of these three property tax elements, New Hampshire Housing contracted with Joe Minicozzi of Urban3 to analyze what types of development create the greatest tax return in 15 communities around the state.

By using these data to create 3D visualizations, Urban 3's analysis reveals the potential for improving the fiscal health of each of these 15 communities. The visuals show what types of development create the greatest tax return for communities, and create a clear and data-driven understanding of the economics of place. With these 3D depictions of its data, a community can use this as a tool to make public policy adjustments, with the goal of creating long-term financial resiliency.

New Hampshire Housing contracted with Urban3 to analyze the property tax revenues of Berlin, Claremont, Concord, Dover, Exeter, Hanover, Hudson, Keene, Laconia, Lebanon, Nashua, Pelham, Peterborough, Portsmouth and Rochester. (In 2018, the Orbit Group hired Urban3 to conduct an analysis of Manchester.)

Joseph Minicozzi, AICP is the principal of Urban3, which looks at how land is used and affects tax productivity. He is an urban planner who utilizes new ways to think about and visualize land use, urban design, and economics.

Statewide Report (video & PDF)
Interactive-NH-Urban3-Report-2020
Seacoast (video & PDF)
Upper Valley (video & PDF)
Southern Tier (video & PDF)
Southwest (video & PDF)
---

CNU PROJECT FOR CODE REFORM

The Congress for the New Urbanism (CNU) is working with New Hampshire Housing to extend its Project for Code Reform to New Hampshire.  This year-long project will make recommendations for changes to the state's local land use statutes and provide accompanying language for local ordinances and regulations.  New Hampshire Housing has assembled a team of stakeholders to advise us along the way.  For an example of CNU's work, see their recent project in Vermont.
Resources
Stakeholder Kick-off Meeting (8/10/2020)
Contact: Ben Frost |  bfrost@nhhfa.org
---
SMALL-SCALE DEVELOPMENT WORKSHOP (9/2020) & BOOT CAMP (Spring 2021, tent.)

The Incremental Development Alliance (IncDev) workshop on small-scale real estate development took a big-picture view of neighborhood-based development to help attendees analyze what makes a good project, how a building makes money, and how small developers interact with professionals in the built environment. The goal is to help aspiring developers feel more prepared to take the first steps on their own project.