Home
Developer Financing

Developer Financing
2022-2023 Multifamily Housing Virtual Tour
What We Do
One of the key roles of New Hampshire Housing is to stimulate and support the availability of multifamily housing throughout the state. Our Multifamily Housing Division manages the financing of new multifamily rental unit construction. It also refinances and recapitalizes existing properties to preserve affordable housing units.
Developers apply for funds to construct or rehabilitate affordable multifamily rental housing. Our programs address affordable and workforce housing needs, as well as supportive housing (e.g., transitional housing, housing for veterans, persons with substance use disorders, and women/children in crisis). NH Housing manages a number of multifamily financing programs that can be used together to make affordable housing possible.
An important financing tool for multifamily housing is the federal Low-Income Housing Tax Credit Program (LIHTC), which leverages investment in housing development. As the state's LIHTC Allocating Agency, NH Housing reviews developer's proposed projects and allocates tax credit based on a scoring system outlined in the state's Qualified Allocation Plan. Developers finance project construction by using their tax credit allocation to leverage private equity investment in the properties. Learn more.
---
NH Housing's Multifamily Projects 2022-23
---
Notice of Funding Opportunity Tax-Exempt Bond Program
This Notice of Funding Opportunity (NOFO) relates to available resources for qualified developers that will be seeking tax-exempt bonds with 4% Low-Income Housing Tax Credits (LIHTC) to construct or adapt buildings for rental housing for families, individuals and the workforce throughout the State of New Hampshire. Click to read the full notice.

March 10, 2023: Notice Regarding Tax-Exempt Bond NOFO & 9% LIHTC Application Round

Notice of Funding Opportunity InvestNH Housing Capital Resources
This Notice of Funding Opportunity (NOFO) relates to the $10 million that has been awarded to NH Housing by the State of New Hampshire, Department of Business and Economic Affairs (BEA), as part of The Coronavirus State and Local Fiscal Recovery Funds (Recovery Funds). For this NOFO, these funds will be called "InvestNH NH Housing Funds." Click to read the full notice
---
HOUSING DEVELOPMENT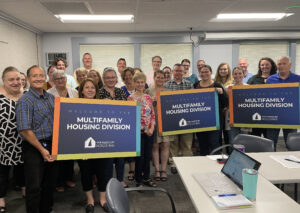 Natasha Dube
Director, Housing Development
Nathan Robinson
Director, Multifamily Development and Finance
Jim Menihane
Director, Multifamily Origination & Business Development
Shaun Malone
Senior Construction Analyst
Emily Boulton, Program Manager
Tom Krebs, Program Manager
---
Photo: Monahan Manor (site of the former Bronstein apartments) in Nashua will provide 216 affordable workforce apartments; financing provided by New Hampshire Housing.