Home
Workforce Housing
Workforce Housing
What is Workforce Housing?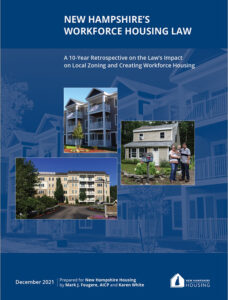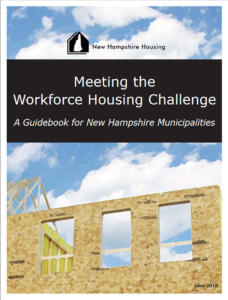 The term workforce housing means permanent housing, intended as a primary year-round residence that is available to households regardless of age and is best provided near places of employment.
Workforce housing can include, but is not limited to, subsidized and affordable housing, as well as market-rate and mixed-income housing. It refers to a broad range of places to live for both owners and renters, meeting the needs of families and individuals that represent the majority of New Hampshire's diverse workforce. Workforce housing includes a variety of housing types suitable for households with different needs and income levels. The types of housing include starter homes, townhouses, condominiums, apartments and accessory dwelling units. New Hampshire RSA 674:58-:61, the state's workforce housing law, defines income and affordability ranges.
Just as important as defining the "what" in workforce housing, is understanding the "who" in workforce housing. This article: "Not What, but Who, is Workforce Housing?" written by Sarah Wrightsman, former Executive Director of the Workforce Housing Coalition of the Greater Seacoast, explores the people who are seeking affordable places to live so they can participate in work and community life.
Meeting the Workforce Housing Challenge Guidebook (2010)
NHHFA, along with an advisory committee and consultants, produced a guide in 2010 to help municipalities address the workforce housing law. Meeting the Workforce Housing Challenge can help local land use boards address the requirements of the statute and shape future growth consistent with their vision for dynamic, healthy communities.
WORKFORCE HOUSING LAW
In 2008, the New Hampshire Legislature passed a law that requires every community to provide "reasonable and realistic opportunities" for the development of workforce housing. New Hampshire's workforce housing statute (NH RSA 674: 58-61). The statute defines "workforce housing" and what is considered "affordable."
New Hampshire is not a "home rule" state, which means all municipal power derives from a Legislative grant. RSA 672:1, III-e states that housing that is affordable to low- and moderate-income house­holds "shall not be prohibited or discouraged by use of municipal planning and zoning powers or by unreasonable interpretation of such powers." The NH Supreme Court ruled in Britton v. Town of Chester, 134 N.H. 434 (1991), that municipalities are obliged to provide such households with a reasonable and realistic opportunity to obtain affordable housing, and that a municipality's zoning cannot be used prevent "outsiders of any disad­vantaged social or economic group" from moving there.