Apply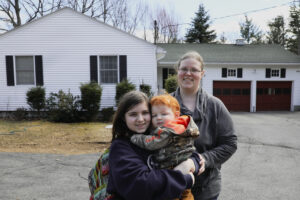 The goal of the federal Housing Choice Voucher Program is to provide safe, decent, sanitary, and affordable housing to very low-income households.
Through the program, a qualified household pays a portion of their adjusted income toward rent and utilities, and New Hampshire Housing pays the remainder directly to the landlord. The household selects its rental unit, which must meet certain housing quality standards.
Program eligibility and assistance is based upon income and household size. To be eligible for the program, applicants must have incomes below 50% of their Area Median Income (view HUD Income Limits).
The estimated waiting time for a voucher is based on the number of people on the waiting list, the availability of vouchers, and an applicant's preference status. For most applicants, this could mean an estimated wait time of 5 – 7 years before their name reaches the top of the list.
Please note: The actual wait time could be longer or shorter.
Language Assistance Services: If you speak a language other than English, language assistance services, free of charge, are available to you.

IMPORTANT: the Online Application Portal is open Monday – Friday from 6:00 AM – 8:00 PM, and 24 hours on Saturdays and Sundays. Occasionally, the portal is unavailable when the site is being updated.
Unable to apply online, call 1-800-439-7247 to have an application mailed.
---
Reasonable Accommodation
A Reasonable Accommodation is intended to provide persons with disabilities equal opportunity to participate in the Housing Choice Voucher program through the modification of policies and procedures. New Hampshire Housing is obligated to make an accommodation that is reasonable, unless doing so would result in an undue hardship or fundamental alteration in the nature of the housing program. If you are a person with a disability, and if your request is reasonable, we will try to accommodate your request. New Hampshire Housing will respond to your request within 30 days.
To obtain a Reasonable Accommodation Request form:
Call 1-800-439-7247
People who are hard of hearing can use the TDD line at 603-472-2089 or the NH Relay Number: 711. TTY or Voice: 711 or 800-735-2964 (English) or 800-676-3777 (Español).
Español: 800-676-4290.
Write to New Hampshire Housing, PO Box 5087, Manchester, NH 03108.
Complete a Reasonable Accommodation Request Form.
If you need help filling out a Reasonable Accommodation Request form, or if you would like to submit a request in some other way, please let us know. Any information you provide will be kept confidential.
Lifeline Telephone Assistance Program
The Lifeline Telephone Assistance Program provides a discount to income-eligible consumers. For more information, click here.
HOUSING CHOICE VOUCHER PROGRAM LINKS
TO QUALIFY, APPLICANTS MUST:
Have an annual income that does not exceed HUD Income Limits.
Provide verification of Social Security Numbers for all household members. These documents may be submitted at the time of application or when vouchers become available.
Meet HUD requirements on immigration or citizenship status. Pay any money owed to New Hampshire Housing or any other housing authority.
Not be subject to lifetime sex offender registration requirements. Sign authorization forms so that New Hampshire Housing can verify the various eligibility requirements for the rental assistance programs.
Not have any household members who are engaged in any criminal activity that threatens the life, health, safety, or right to peaceful enjoyment of the premises by other residents.
Not have any household member who is engaged in any drug-related or violent criminal activity.
Please note that the information provided is subject to verification through computer matching with other federal agencies for the purpose of locating delinquent debtors. The debtor records include: Social Security Number, claim number, program code, and indication of indebtedness. Categories of records include: records of claims and defaults, repayment agreements, credit reports, financial statements, and records of foreclosures.