Home
Available Now! 2020…
Available Now! 2020 Annual Residential Rental Cost Survey Report
July 27, 2020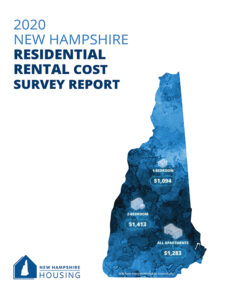 Click to view our 2020 New Hampshire Residential Rental Cost Survey Report.
Owners and managers of more than 21,600 unsubsidized rental housing units around the state (14% of all units) responded to this year's statewide survey of market-rate apartments. While the survey results show that there is still a high demand for apartments, a tight supply and a low vacancy rate, there is a positive note this year… see page 3 for details.
In September, our Housing Market Report will look more deeply into current data on New Hampshire's economy, as well as the state's homeownership and rental markets. The first part of a statewide Housing Needs Assessment also will available soon.