Home
2023 NH Statewide…
2023 NH Statewide Housing Needs Assessment Released
April 10, 2023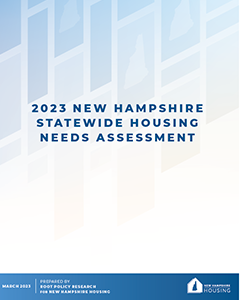 The 2023 New Hampshire Statewide Housing Needs Assessment is now available.
As part of its statutory responsibilities, New Hampshire Housing regularly conducts an assessment of the state's housing market and housing needs. This 2023 assessment is intended to guide decisions affecting housing production and choice by providing regional and statewide data on supply and production, affordability challenges, housing needs, and projected housing demand.
The report's Executive Summary features five key findings, and includes how many housing units the state needs in the next two decades, as well as demographic and market trends, rental and homeownership challenges, and a look at how we can meet New Hampshire's housing needs.
Click to read the 2023 New Hampshire Statewide Housing Needs Assessment