Home
Economist Elliot Eisenberg…
Economist Elliot Eisenberg Presents "Economy 2022" Webinar December 7th
November 18, 2021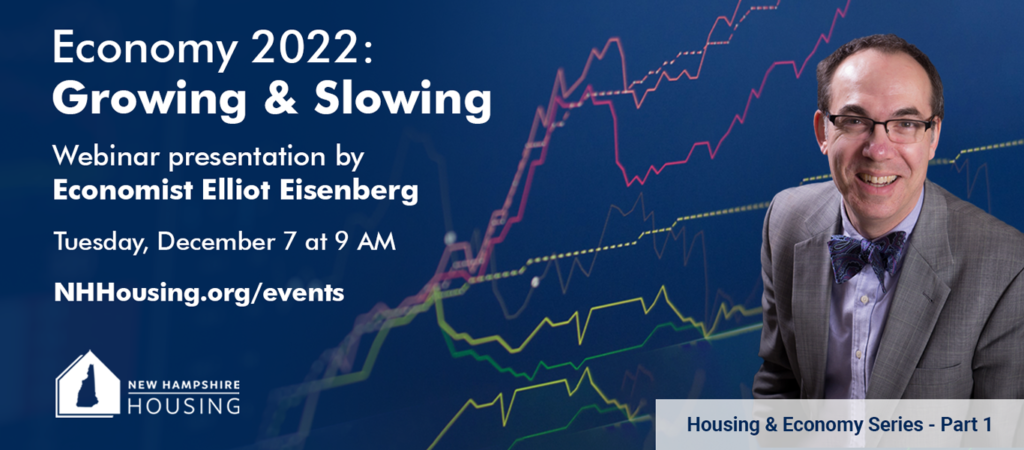 Is the economy growing or slowing, or both? And how will that impact an already tight and tumultuous state housing market? Nationally known economist Elliot Eisenberg, Ph.D., a dynamic and engaging speaker, presented Economy 2022: Growing & Slowing on Tuesday, December 7 at 9 AM.
During this webinar presented by New Hampshire Housing, Eisenberg looks at housing trends and affordability, and how low interest rates, demographics, stimulus checks, changes in the labor market, and the supply chain have impacted state and national housing markets. "The economy is better than you think!" according to Eisenberg.
Additionally, Ben Frost, Managing Director of Policy & Public Affairs at New Hampshire Housing, provides an overview of the state's housing market. 
Below are links to his presentation. These will be available for a limited time.
——————————————————————————————-
NH Housing Reports, Studies & Data
2021 New Hampshire Residential Rental Cost Survey Report

Housing Market Reports

FY21 New Hampshire Housing Annual Report

North Country Housing Needs Analysis

Employer-Assisted Housing Guide for New Hampshire Businesses

New Hampshire housing market economic and demographic data

About New Hampshire Housing: As a self-supporting public corporation, New Hampshire Housing Finance Authority promotes, finances and supports affordable housing. NHHFA operates rental and homeownership programs designed to assist low- and moderate-income persons with obtaining affordable housing. We have helped more than 50,000 families purchase their own homes and been instrumental in financing the creation of more than 15,000 multi-family housing units.   
NHHousing.org   |  #NHHousing  |  @NewHampshireHousing  |  @NHHousing