Home
From the Outskirts to Downtown: Taxes, Land Use & Value in Upper Valley Communities
From the Outskirts to Downtown: Taxes, Land Use & Value in Upper Valley Communities
October 29, 2020 | 11:00am - 12:30pm
Venue :Virtual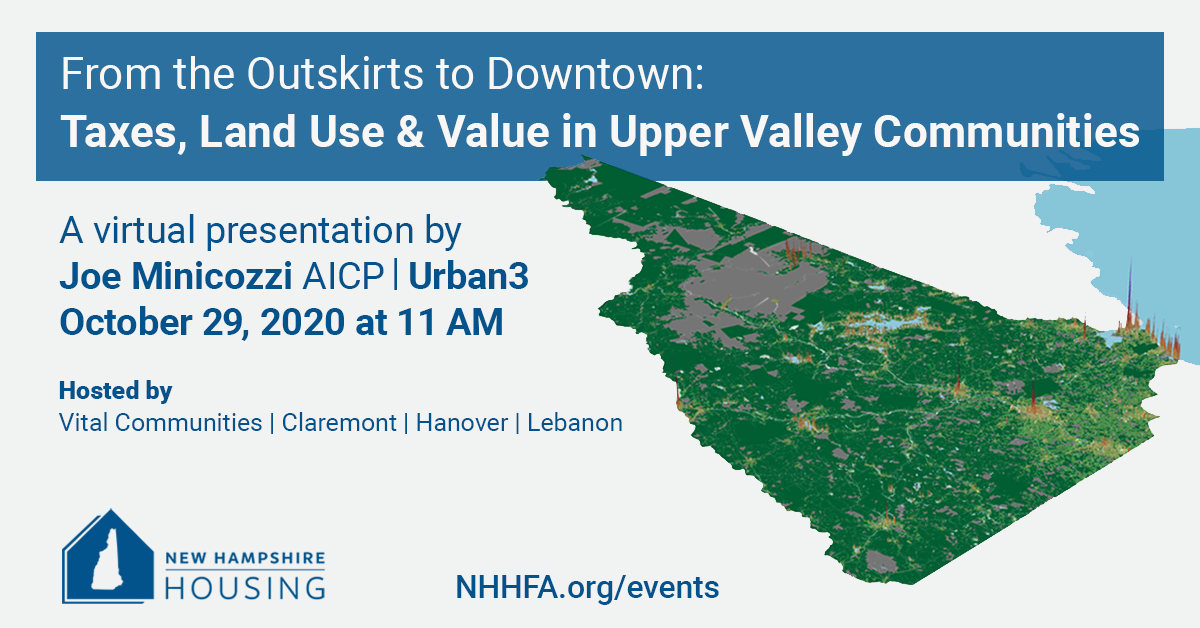 What types of development create the greatest tax revenue for New Hampshire communities – suburban sprawl and big box stores, or dense, downtown development? In New Hampshire, property taxes are the key revenue source for local governments. Tax rates, land use and land value from one end of town to the other often vary in surprising ways.
On Thursday, October 29 at 11 AM, Joe Minicozzi of Urban 3 will analyze property tax revenues in the Upper Valley communities of Claremont, Hanover and Lebanon in an engaging, free webinar for residents and public officials. Register for the event here.
The presentation is hosted by the Vital Communities, Claremont, Hanover and Lebanon; it is presented by New Hampshire Housing, which contracted with Urban3 to analyze what types of development offer the greatest tax return in 15 communities around the state.
By using data to create 3D visualizations, Urban 3's analysis reveals the potential for improving the fiscal health of these communities. The visuals present a clear and data-driven understanding of the economics of place. With these 3D depictions of its data, a community has a tool to make public policy adjustments, with the goal of creating long-term financial resiliency.
This is one of a series of live New Hampshire-focused webinars Minicozzi is presenting (most of which will be videorecorded and available online). On October 15, he will launch his first presentation with a statewide focus on Berlin, Claremont, Concord, Dover, Exeter, Hanover, Hudson, Keene, Laconia, Lebanon, Nashua, Pelham, Peterborough, Portsmouth and Rochester. (In 2018, the Orbit Group hired Urban3 to conduct an analysis of Manchester.)
Joseph Minicozzi, AICP is the principal of Urban3, which looks at how land is used and affects tax productivity. He is an urban planner who utilizes new ways to think about and visualize land use, urban design, and economics.
---
See links below for additional information on Minicozzi's analysis of local tax revenues, land use and value in Upper Valley communities. If you have questions for Joe Minicozzi / Urban3, please email those to: info@nhhfa.org