Home
2020 Homeownership Conference
2020 Homeownership Conference
March 03, 2020 | 8:00am - 12:30pm
Venue : Manchester Country Club, 180 S River Rd, Bedford, NH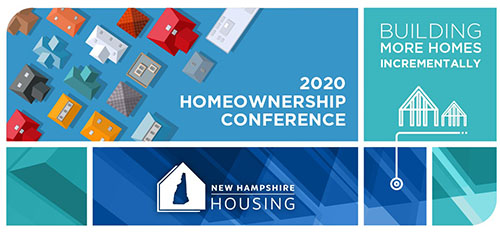 Getting more homes built in our New Hampshire communities is the focus of our 2020 Homeownership Conference. Incremental development via small-scale real estate development projects is a proven way to accomplish this. To accommodate the range of housing our state's residents need, different solutions to create that housing have to be considered. JOHN ANDERSON, the conference's keynote speaker, has extensive national experience in delivering complex projects from design to construction.
As a founding member of the Incremental Development Alliance with over 30 years of experience in design and development, Anderson and the Alliance staff also provide training to small developers, with the goal of enabling thousands of small (1-3 story) development projects. They focus on working with communities on infill development. This fall, New Hampshire Housing will offer workshops on incremental development, as well as a boot camp for small developers to be held in early 2021.
Just how many housing units does our state need to satisfy demand and sustain our economic growth – and how can we respond? RUSS THIBEAULT, president of Applied Economic Research, will discuss his housing needs assessment report which will be released this spring.
A discussion on housing production includes:
RACHEL EAMES, Owner/Broker, Eames Realty Services
JEN HOPKINS, Director, Single Family Housing, NH Community Loan Fund
JAMES GALLAGHER, SVP, Commercial Lending, Merrimack County Savings Bank
Additionally, the New Hampshire Housing Top Lenders will be recognized.
Click below to view/download PDFs of these conference materials: