Home
Small-Scale Development Workshop
Small-Scale Development Workshop
September 23, 2020 | 8:30am - 12:00pm
Venue :Virtual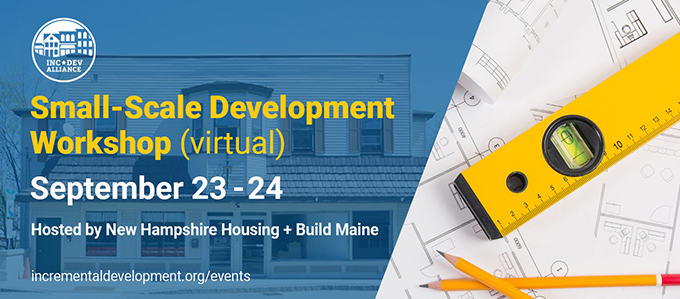 A virtual workshop presented by the Incremental Development Alliance
September 23 & 24, 2020
8:30 AM – Noon
Hosted by New Hampshire Housing and Build Maine
Full Schedule + Registration Details
Workshop Description
The Incremental Development Alliance (IncDev) workshops on small-scale real estate development take a big-picture view of neighborhood-based development to help attendees analyze what makes a good project, how a building makes money, and how small developers interact with professionals in the built environment. The goal is to help aspiring developers feel more prepared to take the first steps on their own project.
Registration + Scholarships
Early-Bird Registration is $150 until September 11, 2020.
Standard Registration is $180 until the day of event, as space is available.
Learn more about the Incremental Development Alliance by watching the Build Maine Coffee Talk with two IncDev faculty here.
REGISTER NOW!