Home
Virtual Small-Scale Development Boot Camp (May 6 – 27)
Virtual Small-Scale Development Boot Camp (May 6 – 27)
May 06, 2021 | 9:00am - 12:00pm
Venue :Virtual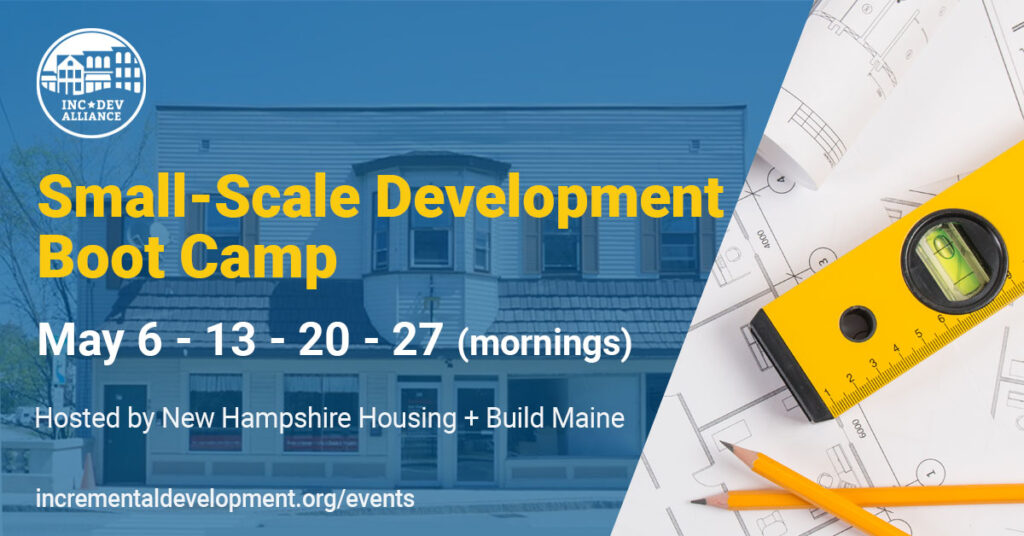 Building on the Incremental Development Alliance's Small Developer Workshop hosted by New Hampshire Housing and Build Maine last fall, this Virtual IncDev Boot Camp gives those participants an opportunity to apply that training to their actual development project. Participants will work through exercises like building and refining their pro forma, creating an investor proposal package, and drawing out the zoning parameters for their lot. Participants can also practice pitching their project to the group and instructors in order to get feedback in a supportive environment.
Attendance at a previous Incremental Development one-day Workshop Course is required (either the Small Developer Seminar or Workshop). Send an email to be considered for a special exception.
Details
Important Notice: Due to ongoing COVID-19 precautions, this Boot Camp is a virtual event.  Logistical details and additional information will be sent to all registrants prior to the Boot Camp start date.
Virtual Boot Camp Dates:
May 6: 9 AM – 12 PM
May 13: 9 AM – 12 PM
May 20: 9 AM – 12 PM
May 27: 9 AM – 12 PM
Scholarships are available!
Contact: George Reagan, Community Engagement Manager
greagan@nhhfa.org