Home
Financing for 1,000…
Financing for 1,000 Units of Rental Housing Approved by NH Housing in FY21
August 19, 2021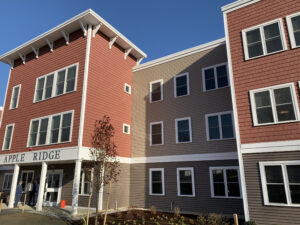 Financing supports new construction and preservation of affordable rental housing 
To help meet the critical need to build and preserve affordable rental housing for our state's workforce and other residents, funding for 16 affordable multi-family rental housing developments was approved by the New Hampshire Housing Board of Directors during the fiscal year ending June 30, 2021 (FY21). The allocation of Low-Income Housing Tax Credits (LIHTC) and other federal and state funding to these projects will produce or preserve almost 1,000 units of affordable rental housing in the state's communities.
LIHTC-funded housing accounts for about 95% of publicly funded workforce housing produced in New Hampshire. This federal program is an important public/private financing tool that encourages developers and investors to create affordable multi-family housing for low- and moderate-income families by using tax credits to leverage private equity investment in these properties. Over 25 years, LIHTC financing has added nearly $1 billion of investment in New Hampshire. The housing credit program leverages ten times the amount awarded: in this recent round, $5 million in LIHTC awards will yield nearly $50 million in private capital to develop affordable housing in the state. 
Other funding sources that New Hampshire Housing administers for the construction and preservation of affordable multi-family housing include the federal HOME program and Housing Trust Fund, the state Affordable Housing Fund, and tax-exempt bond financing. In FY21, more than $21 million in tax-exempt bond funding was allocated. 
The importance of tax credits to create affordable housing is underscored by private developer David Lemieux, whose Apple Ridge Apartments in Rochester are being constructed in three phases using LIHTC funds. There will be 102 apartments when completed. "In 2019, we developed and built much needed affordable units in Phase I," Lemieux, principal at McIntosh Development, noted. "New Hampshire Housing provided low-rate construction financing for the project, as well as permanent loan financing. Now we are heading into phase II, and the LIHTC program is again making this possible."
"The production of new housing helps meet an urgent need in the state, and supports the state's thriving economic development climate," noted Dean Christon, executive director of New Hampshire Housing. "The state and federal funding sources that New Hampshire Housing provides are essential financing tools for public and private developers to create and renovate affordable rental housing throughout the state." 
New Hampshire Housing manages the financing of new multi-family rental unit construction, and refinances and recapitalizes existing properties to preserve affordable housing units in the state. Our programs address affordable and workforce housing needs, as well as supportive housing for vulnerable and underserved populations including veterans, persons with substance use disorders, the formerly incarcerated, and individuals with intellectual and developmental disabilities. 
NEW CONSTRUCTION & ADAPTIVE REUSE




(Adaptive reuse repurposes buildings into housing, e.g., from schools, stores,

commercial buildings, churches, etc. into multi-family housing)

 

CLAREMONT




Sullivan House




Sullivan County

 

SUPPORTIVE HOUSING




28 units

 in former newspaper building renovated to serve as transitional housing for individuals formerly incarcerated and recovering from substance use disorders

 

CONCORD




Village Street (Rosemary's Way)




CATCH Neighborhood Housing

 

GENERAL OCCUPANCY




42 units 

in six townhouse-style buildings located in the Concord village district of Penacook

 

PORTSMOUTH




Court Street Workforce Housing




Portsmouth Housing Authority

 

GENERAL OCCUPANCY




64 units 

in downtown Portsmouth

 

DURHAM




Bagdad Woods




Housing Initiatives of NE Corp.

 

AGE-RESTRICTED




26 new units added, 40 units preserved

 




HUD project-based rental assistance (no more than 30% of household income for rent & utilities)

 

GOFFSTOWN




Woodland Village I & II




Dakota Partners, Inc.

 

GENERAL OCCUPANCY




Phase I (42 units) & II (32 units) = 74 units total

 

LEBANON




Heater Landing




Lebanon Housing Authority

 

GENERAL OCCUPANCY




44 units

 with resident services coordinator on site; will seek National Green Building Standard Gold certification

 

LEBANON




12 Green Street




Visions for Creative Housing Solutions

 

SUPPORTIVE HOUSING




5 units 

serving 11 adults with developmental disabilities




Acquisition & rehab of two existing buildings

 

NASHUA




Nashua Soup Kitchen & Shelter




NSKS

 

SUPPORTIVE HOUSING




11 units

 – adaptive reuse – historic preservation of a former school into 11 units of permanent supportive housing for persons experiencing homelessness, with facilities for temporary shelter and service delivery

 

ROCHESTER




Apple Ridge Apartments II




McIntosh Development, LLC

 

GENERAL OCCUPANCY




34 units

 (total number of units phases I – III = 102 units)

 

PRESERVATION

 




(Housing that is refinanced and improved to extend affordability period; 




or created or preserved for affordability)

 

AMHERST




Parkhurst Place




Souhegan Valley Interfaith Housing

 

AGE-RESTRICTED




42 units

 




Refinanced

 

LACONIA




Wingate Village




Winn Development Co.

 

GENERAL OCCUPANCY




100 units




 

MANCHESTER




434 Union Street 




(formerly Angie's Place)




Families in Transition

 

SUPPORTIVE HOUSING




11 units

 – conversion of boarding house into permanent supportive apartments for individuals experiencing homelessness 

 

MEREDITH




Harvey Heights II




Lakes Region Community Developers

 


GENERAL OCCUPANCY
25 units 

 

 

NASHUA




Bronstein Redevelopment




Nashua Housing & Boston Capital Development

 

GENERAL OCCUPANCY




166 units

 – phased replacement of existing public housing & addition of new units (216 units total)

 

SEACOAST
Properties owned by
The Housing Partnership

GENERAL OCCUPANCY
40 units (within 10 buildings on various sites) 
SOMERSWORTH
Fillion, Nadeau & Charpentier Apartments
Somersworth Housing Authority
GENERAL OCCUPANCY
169 units within 3 public housing properties to be renovated over 2 years through HUD's Rental Assistance Demonstration (RAD) program, which ensures apartments remain permanently affordable. Households pay no more than 30% of their income for rent and utilities. 
2021 New Hampshire Residential Rental Cost Survey Report 

 

Housing Market Reports

 

NHHFA FY20 Annual Report

 

New Hampshire housing market economic and demographic data

 
About New Hampshire Housing: As a self-supporting public corporation, New Hampshire Housing Finance Authority promotes, finances and supports affordable housing. NHHFA operates rental and homeownership programs designed to assist low- and moderate-income persons with obtaining affordable housing. We have helped more than 50,000 families purchase their own homes and been instrumental in financing the creation of more than 15,000 multi-family housing units.   
NewHampshireHousing.org   |  #NHHFAHousing  |  @NewHampshireHousing  |  @NHHFA