Home
June New Hampshire…
June New Hampshire Housing Market Report Released
June 13, 2022
The new edition of New Hampshire Housing's Housing Market Report has been released.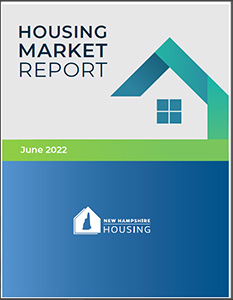 This report provides insights and data that show a housing market in a state of turmoil, buffeted by rising interest rates and economic uncertainty that presents extraordinary challenges for renters and homebuyers. In this report, we trace various factors that influence affordability and people's ability to find a home that fits their household's needs and income.
New Hampshire's housing market is affected by several factors: escalating construction costs, a sudden increase in mortgage rates, and rising home prices and rents that have exacerbated housing affordability challenges for entry-level buyers as well as renters. Meanwhile, when the influence of inflation on the price of staples such as groceries and gas is added to this mix, we can begin to understand how severely these market conditions are affecting the housing choices of low- and middle-income New Hampshire residents.
For detailed information on the state's economy, and rental and homeownership markets, download the Housing Market Report
—————————————————-

About New Hampshire Housing: As a self-supporting public corporation, New Hampshire Housing Finance Authority promotes, finances and supports affordable housing. NH Housing operates rental and homeownership programs designed to assist low- and moderate-income persons with obtaining affordable housing. Since its inception, we have helped more than 50,000 families purchase their own homes and have been instrumental in financing the creation of almost 16,000 multi-family housing units.