Home
Mortgage and Housing…
Mortgage and Housing Professionals Named as NH Housing Homeownership Fellows
June 1, 2023
– Program offers opportunity to delve into local and national lending and housing issues –
Ten Granite State professionals who work with homebuyers have been named 2023-2024 New Hampshire Housing Homeownership Fellows. The program offers an opportunity to explore the mortgage finance system and participate in workshops about housing and public policy, housing and economic development, state government issues, and New Hampshire Housing's homeownership programs.
A special component of the Fellows program is meeting with New Hampshire's Congressional delegation while in Washington, D.C., and the opportunity to discuss issues with representatives from the National Council of State Housing Agencies, U.S. Department of Housing and Urban Development, Ginnie Mae, Mortgage Bankers Association, Consumer Financial Protection Bureau, and USDA Rural Development.
The 2024 New Hampshire Housing Fellows are:
William Cossey, CMG Financial
Nellie Doughty, Harbor One Mortgage
Kelly Griffin, Keene Housing
Brittany Hodge, Meredith Village Savings Bank
Melissa Lesniak, Keller Williams
Beth McCann, Northpoint Mortgage
Heather McCann, New Hampshire Housing
John Nettles, Bank of New Hampshire
Lee Ann Parks, Bean Group
Ron Thompson, NH Community Loan Fund
"We established the Homeownership Fellows program to provide a unique opportunity for New Hampshire lenders, real estate, and housing professionals to gain a deeper understanding of residential lending practices and affordable housing issues in New Hampshire and nationally," said Rob Dapice, Executive Director/CEO of New Hampshire Housing.
Congratulations to the 2023 Homeownership Fellows who recently completed the program:
Julia Forbes, Bellwether Community Credit Union
Bill Gaudet, HarborOne Mortgage
Chrissy Gossel, NH Housing
Sandi Grace, Bank of New Hampshire
Sandee Guide, HarborOne Mortgage
Brendan Hague, CMG Home Loans
Bobby Hill, Northway Bank
Jessica Hooper, Bar Harbor Bank & Trust
Megan Pepper, Fairway Independent Mortgage Corp.
Kyrsten Shedd, Guild Mortgage
Lorraine Tyma, HarborOne Mortgage
The Homeownership Division works with a statewide network of lenders and real estate professionals to offer single-family mortgage programs that enable low- and moderate-income homebuyers to purchase or refinance a home. Details about the New Hampshire Housing Homeownership Fellows are available here. In July, New Hampshire Housing will announce its 2023 Top Loan Officers and Lenders.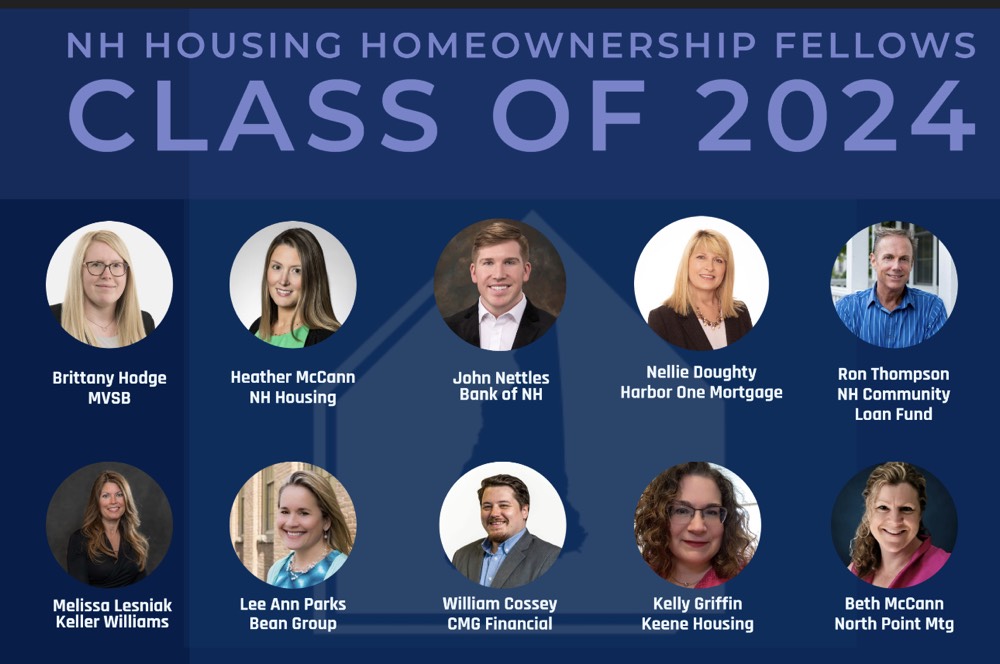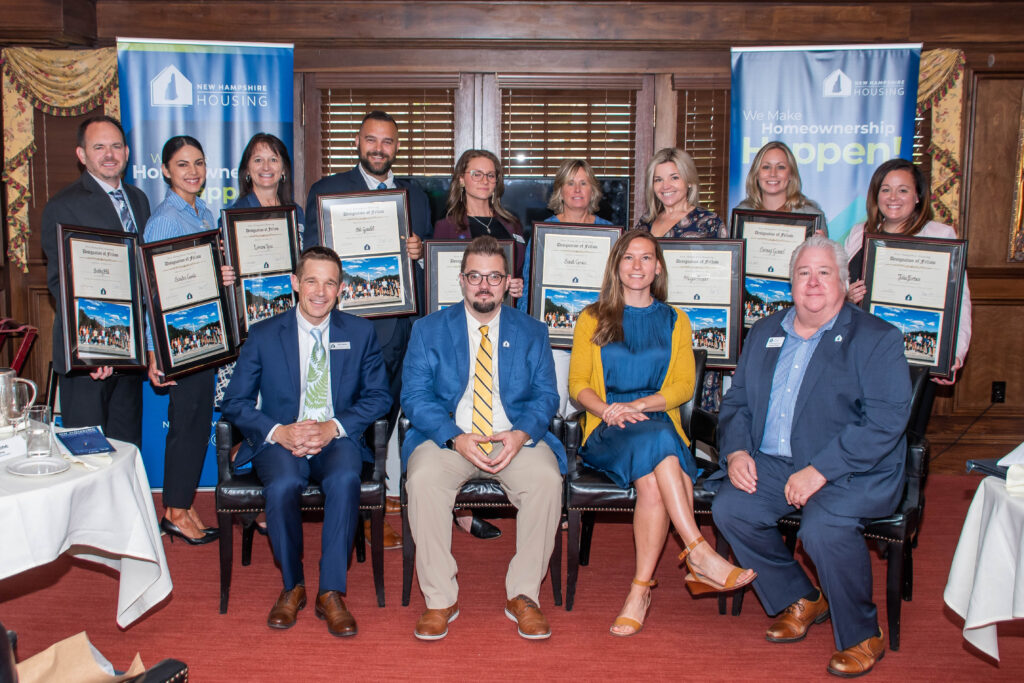 Photo of 2022 – 2023 NH Housing Homeownership Fellows:
From Top Left: Bobby Hill, Sandra Guide, Lorraine Tyma, Bill Gaudet, Kyrsten Shedd Bailey, Sani Grace, Megan Pepper, Julie Forbes, Rob Dapice, Matthew Gallant, Julie Jussif & George Regan. Not pictured is Brendan Hague with CMG Homeloans.  
New Hampshire Housing Reports & Data
Housing Market Reports
2022 New Hampshire Residential Rental Cost Survey Report (2023 Report coming in July)
2023 NH Statewide Housing Needs Assessment
New Hampshire's Workforce Housing Law: A 10-Year Retrospective on the Law's Impact on Local Zoning and Creating Workforce Housing
Developing Employer-Assisted Housing
New Hampshire Housing FY22 Annual Report
New Hampshire housing market economic and demographic data
---

About New Hampshire Housing: As a self-supporting public corporation created by the state legislature, New Hampshire Housing promotes, finances, and supports housing solutions for the people of New Hampshire. We have helped more than 55,000 families purchase their own homes and been instrumental in financing the creation of 16,000 multifamily housing units.
NHHousing.org | #NHHousing | WeMakeHomeownership Happen | @NewHampshireHousing