Home
Mortgage Professionals Complete…
Mortgage Professionals Complete New Hampshire Housing Fellowship
June 5, 2017
Fellowship offers opportunity to delve into lending and housing issues –
Ten mortgage lenders recently completed their year as New Hampshire Housing Homeownership Fellows, participating in sessions about housing policy, housing and economic development, state government, and New Hampshire Housing's homeownership programs.
A highlight of the fellowship was a visit to Washington, D.C., where participants met with members of New Hampshire's Congressional delegation and representatives from Fannie Mae, Ginnie Mae, Consumer Financial Protection Bureau, Department of Housing and Urban Development (FHA), Mortgage Bankers Association, and USDA Rural Development.
The 2016-2017 New Hampshire Housing Fellows were:
Jeremy Clark, Merrimack Mortgage Co.
Matthew DePippo, Residential Mortgage Services, Inc.
Matthew D'Urso, Envoy Mortgage
Jim Farley, Regency Mortgage
Bonnie Greenless, Bank of New Hampshire
Richard Haney, St. Mary's Bank
Jennifer Hopkins, New Hampshire Community Loan Fund
Carol Jordan, Merrimack Mortgage Co.
Pamela MacDonald, New Hampshire Community Loan Fund
Lisa Martin, People's United Bank
"We're pleased to offer this educational opportunity to New Hampshire lenders and real estate professionals for a third year," said Dean Christon, executive director of New Hampshire Housing. "Through the Fellowship, participants learn more about lending and housing at the local and national level, and about our mission to support affordable housing in the Granite State."
The New Hampshire Housing Homeownership Fellowship Program is accepting applications for the class of 2017-2018. Program details are available at NHHFA/homeownership-fellowship-program; the deadline to apply is July 14, 2017.
About New Hampshire Housing: As a self-supporting public benefit corporation, New Hampshire Housing Finance Authority promotes, finances and supports affordable housing. The Authority operates a number of rental and homeownership programs designed to assist low- and moderate-income persons with obtaining affordable housing. Since its inception, New Hampshire Housing has helped more than 44,000 families purchase their own homes and has been instrumental in financing the creation of more than 14,500 multi-family housing units. www.GoNHHFA.com | www.NHHFA.org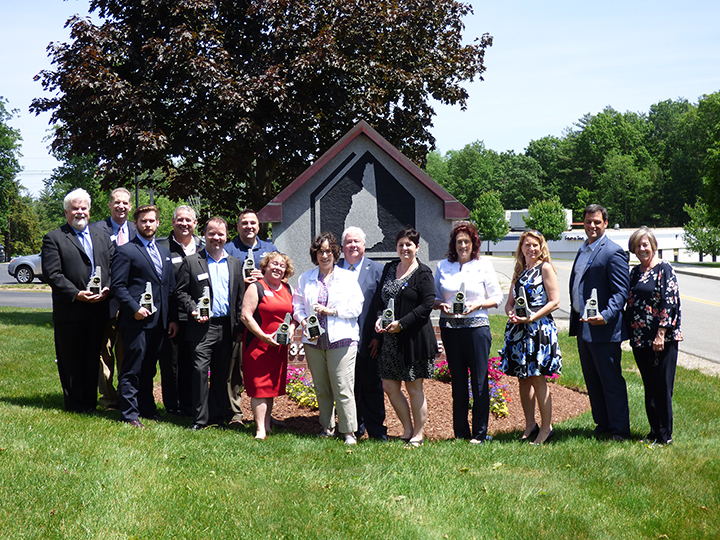 2017 NHHFA Fellows (l-r): Jim Farley, Ignatius MacLellan (NHHFA), Matthew DePippo, Tim Karanasios (NHHFA), Richard Haney, Jeremy Clark, Carol Jordan, Jennifer Hopkins, George Reagan (NHHFA), Pamela MacDonald, Bonnie Greenless, Lisa Martin, Matthew D'Urso, Brenda Mahoney (NHHFA).