Home
New Hampshire Housing…
New Hampshire Housing Names 2020 Top Lenders
March 23, 2021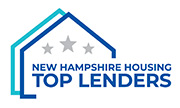 Top Loan Officers and Lenders Recognized for Outstanding Efforts in Assisting Homebuyers
CLICK HERE to view 2020 Top Lenders
Lenders and loan originators were recently recognized by New Hampshire Housing for helping 1,400 homebuyers find affordable homes and loans last year. The awards were given to the lending institutions and loan originators who assisted the most homebuyers through New Hampshire Housing programs in 2020.
"Our top lenders and loan originators are vital to supporting affordable housing opportunities for all New Hampshire households," noted Ignatius MacLellan, managing director of New Hampshire Housing Finance Authority's Homeownership Division. "We know what a challenging year it has been. It also has been a very active year for people seeking to become homeowners. These top lenders have provided outstanding service to customers."
NEW HAMPSHIRE HOUSING'S 2020 OUTSTANDING LENDERS AND ORIGINATORS
Top Loan Officers
(by highest number of loans)
Jay Vogel
Residential Mortgage Services, Inc.
Joseph Gagnon
Residential Mortgage Services, Inc.
Marcie B. Gowen-Nobley
Woodsville Guaranty Savings Bank
Meghan Merrill
CMG Financial
Debbie Austin-Brown
Harbor One Mortgage, LLC
Denise Hubbard
Meredith Village Savings Bank
Marleen Paquette
Residential Mortgage Services, Inc.
Lisa Capicchioni
Residential Mortgage Services, Inc.
Carol Zink-Mailloux
Waterstone Mortgage
Jane Jordan
Mortgage Network Inc.
Dennis Kochanek
Residential Mortgage Services, Inc.
Gladys White
Residential Mortgage Services, Inc.
Justin Macagba
CMG Financial
Ryan Tufts
HarborOne Mortgage, LLC
Shanin Sansoucie
HarborOne Mortgage, LLC
Robert Hill
Northway Bank
Jason Jaramillo
Advantage Home Loans LLC
Lori Riggie
Woodsville Guaranty Savings Bank
Jonathan Ferrante
Blue Water Mortgage Corporation
Donald Sutherland
St. Mary's Bank
Barbara Bullard
Woodsville Guaranty Savings Bank
Terry Daniels
Woodsville Guaranty Savings Bank
Stephen Buchan
Blue Water Mortgage Corporation
Sheila Walter
Holy Rosary Credit Union
Kurt Strandson
Pinnacle Mortgage Corporation
NEW HAMPSHIRE HOUSING'S 2020 OUTSTANDING LENDERS AND ORIGINATORS
Participating Lenders
(by highest number of loans)
Residential Mortgage Services

, Inc.

CMG Financial

HarborOne

Mortgage, LLC

St. Mary's Bank

Mortgage Network Inc.

Bank of New Hampshire

Fairway Independent Mortgage Corporation

Northpoint Mortgage

Waterstone Mortgage

Movement Mortgage, LLC
Participating Originators
(by highest number of loans)
Woodsville Guaranty Savings

Bank

Meredith Village Savings

Bank

Blue Water Mortgage Corporation

Northway Bank

Pinnacle Mortgage Corporation

Mascoma

Bank

AccuTrust

Mortgage, Inc.

Holy Rosary Credit

Union
New Hampshire Housing mortgages offer special features not generally available through other lending sources such as downpayment assistance – that can make homeownership more affordable. New Hampshire Housing also offers the Homebuyer Tax Credit program for first-time homebuyers, which enables them to receive a federal tax credit of up to $2,000 per year as long as they own their home and continue to pay mortgage interest. The new Community Heroes Initiative acknowledges the commitment of the state's essential workers who are first-time homebuyers by offering them a $3,000 closing-cost credit.
Information about New Hampshire Housing homeownership programs, including eligibility information and a list of lender partners, is available at GoNHHousing.com.
About New Hampshire Housing: As a self-supporting public corporation, New Hampshire Housing Finance Authority promotes, finances and supports affordable housing. NHHFA operates rental and homeownership programs designed to assist low- and moderate-income persons with obtaining affordable housing. We have helped more than 50,000 families purchase their own homes and been instrumental in financing the creation of more than 15,000 multi-family housing units.

NHHFA.org | #NHHFAHousing | @NewHampshireHousing | @NHHFA