Home
New Hampshire Housing…
New Hampshire Housing Board Names Robert Dapice as Executive Director/CEO
December 1, 2021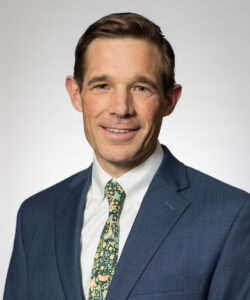 After an extensive national search, the New Hampshire Housing Board of Directors has named Robert (Rob) Dapice as Executive Director/CEO of the organization, as of January 1, 2022. Dapice will succeed Dean Christon, a well-respected and nationally recognized affordable housing advocate and leader who will retire December 31, 2021 after 34 years of service with New Hampshire Housing.
Dapice is the Managing Director of New Hampshire Housing's Management and Development Division, which finances and supports affordable multi-family housing in the state. He joined New Hampshire Housing in 2014 and served in various roles in the Management and Development Division (overseeing multi-family housing) until 2021. As part of New Hampshire Housing's response to the COVID-19 pandemic, Dapice led the effort to provide critical assistance through the creation of New Hampshire Housing's Shelter Modification Program and the Emergency Assistance Loan Fund. These programs provided vital support to partner organizations that served vulnerable and housing-insecure individuals and families during the pandemic.
"Rob is committed to our mission of promoting affordable housing opportunities for all New Hampshire residents, and has proven abilities as a collaborator and leader," noted New Hampshire Housing Board Chair Donald L. Shumway. "He brings the same dedication and passion to fulfilling our housing mission as he did to serving our country. Rob has demonstrated his desire to make a difference to our state's communities and to work on behalf of those who seek safe and affordable housing."
"Under Dean Christon's leadership, New Hampshire Housing has earned a reputation for operational excellence, adaptability and compassion," Dapice said. "I am honored to be selected by the Board to lead our outstanding team, and to continue working towards our shared vision of a New Hampshire with decent, affordable housing for all. The pressures of the pandemic and related factors have highlighted the critical role of housing to the state's economic vitality and to the health of its citizens, further underscoring the importance of our work."
Prior to joining New Hampshire Housing, Dapice served as a project manager for North Branch Construction. He was a captain in the U.S. Army and served in Iraq. He currently serves on various volunteer boards, including the New Hampshire Children's Lobby, Waypoint Manchester Advisory Board, and his town's Planning Board.
A resident of Contoocook, Dapice earned a bachelor's degree from Dartmouth College, and a Master of Business Administration degree from the University of New Hampshire. He is a member of the Leadership New Hampshire Class of 2017 and a graduate of the U.S. Army Ranger School.
"The Board of Directors undertook a broad national search for a new executive director which highlighted New Hampshire Housing's outstanding reputation of excellence," commented board member Sarah Marchant, chair of the Search Committee. "Our desire to have an executive director who embraces and understands the organization's mission, history and culture led us to select Rob as our next Executive Director/CEO."
"Rob has demonstrated a strong commitment to New Hampshire Housing and to the important work we do," said Dean Christon. "He will bring great energy, enthusiasm, and creativity to his new role as Executive Director."
---
About New Hampshire Housing: As a self-supporting public corporation created by the state legislature, New Hampshire Housing promotes, finances and supports affordable housing.
The Homeownership Division works with a statewide network of lenders and real estate professionals to offer single-family mortgage programs that enable low- and moderate-income homebuyers to purchase or refinance a home. The Management and Development Division manages the financing of new affordable multi-family rental unit construction, and refinances and recapitalizes existing properties to preserve affordable housing units. The Assisted Housing Division administers the Housing Choice Voucher program for very low-income individuals and families, as well as other rental assistance programs. Additionally, the Policy, Planning and Communications Group conducts research, issues reports, and offers presentations and insights on the state's housing needs and conditions. It works with local partners on housing advocacy issues, and offers technical assistance to communities throughout the state on housing-related matters.
New Hampshire Housing has helped more than 50,000 families purchase their own homes and been instrumental in financing the creation of more than 15,000 multi-family housing units.

NHHousing.org | #NHHousing | @NewHampshireHousing | @NHHousing