Home
Events
News & Events
Contact: info@NHHFA.org
Thursday January 20, 2022
EVENT POSTPONED: Networking Evening with PLAN NH
January 20, 2022 | 4:00 pm - 7:00pm
Update: the event has been POSTPONED Kick off the new year with us at a networking evening with Plan NH. Join us on January 20th for our first in-person event of the year. We'll be at JSA Design (also the home of Plan NH) in Portsmouth for a night of networking with colleagues across the Plan NH Community.
REGISTER NOW
Thursday February 17, 2022
Plan NH Annual Town Hall
February 17, 2022 | 12:00 pm - 1:00pm
Venue :Virtual
Plan NH Annual Town Hall is just around the corner! Join virtually on February 17th as Plan NH goes over all that was accomplished throughout NH in 2021, along with their outlook for 2022 and beyond. This is your opportunity to ask  questions, toss out ideas, and find out how you can get involved with Plan NH! This event will be hosted via Zoom.
REGISTER NOW
Tuesday January 25, 2022
Missing Middle Housing Webinar with Karen Parolek
January 25, 2022 | 12:00 pm - 1:30pm
Venue :Virtual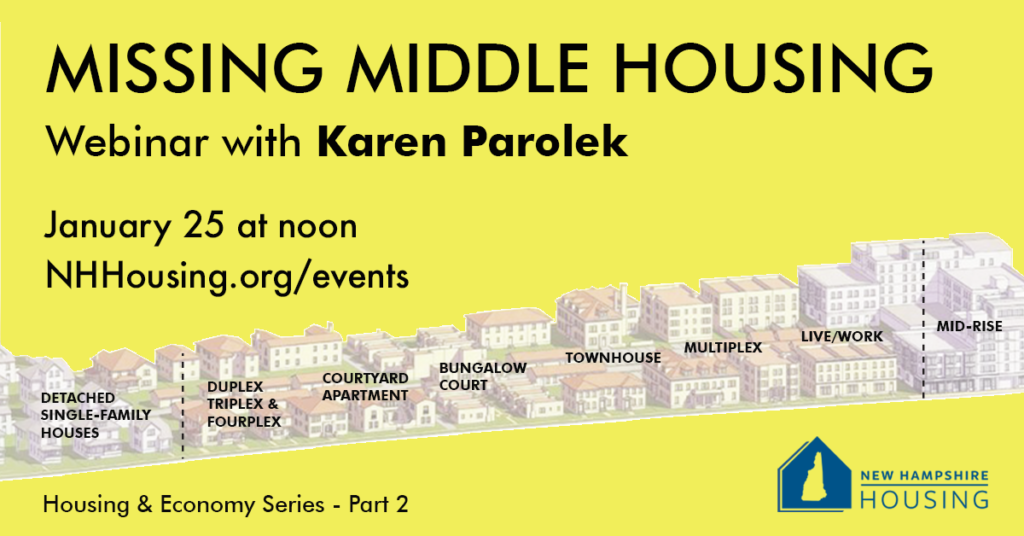 As the cost of housing skyrockets, the demand for diverse and affordable housing options increases with it. "Missing Middle Housing" is seen as a solution that will help expand the availability of housing for different needs and incomes because it addresses the mismatch between available housing stock and the shifting preferences of New Hampshire's changing population. KAREN PAROLEK, principal and CFO of Opticos Design, will present a webinar on Missing Middle Housing January 25th from 12 – 1:30 PM, hosted by New Hampshire Housing. She'll discuss the benefits of duplexes, fourplexes, cottage courts, and multiplexes and how these house-scale buildings fit seamlessly into existing residential neighborhoods and support walkability and local businesses. Parolek will illustrate the power of Missing Middle Housing to meet today's diverse housing needs. She also will discuss the barriers communities need to remove to support Missing Middle Housing, case studies of built projects, and the demographics driving the need. Daniel Parolek, principal and CEO of Opticos, coined the term Missing Middle Housing to highlight the need for more housing choices at affordable prices in sustainable, walkable places. He is the author of Missing Middle Housing: Thinking Big and Building Small to Respond to Today's Housing Crisis (2020). This webinar is free of charge, however registration is required.
REGISTER NOW