Home
2021 Annual Residential…
2021 Annual Residential Rental Cost Survey Report Released
July 15, 2021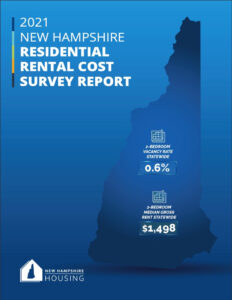 Click to view our 2021 New Hampshire Residential Rental Cost Survey Report.
Owners and managers of more than 24,560 unsubsidized rental housing units around the state (15% of all units) responded to this year's statewide survey of market-rate apartments. The survey results depict a rental market with low inventory, lower vacancy rates, and higher rents, meaning that it remains a very challenging market for New Hampshire renters.
This is paired with a limited supply of homes to buy, hindering the ability of renters to become homeowners. Rents reported in the survey reflect the demand for apartments: this year's statewide median gross rent (including utilities) of $1,498 for two-bedroom units is up 6% over last year (and up 7% for all units). Rents statewide have increased in each of the past eight years. At less than 1% (0.9%), the vacancy rate for all units is lower than last year (a vacancy rate of 5% is considered a balanced market for tenants and landlords). In comparison, both the U.S. and Northeast vacancy rates are at 6.8%.
See page 3 for the report's Executive Summary.
This fall, our Housing Market Report will look more deeply into current data on New Hampshire's economy, as well as the state's homeownership and rental markets.