Home
Groundbreaking for 102-unit…
Groundbreaking for 102-unit Affordable Housing Complex for Seniors in Londonderry
December 7, 2018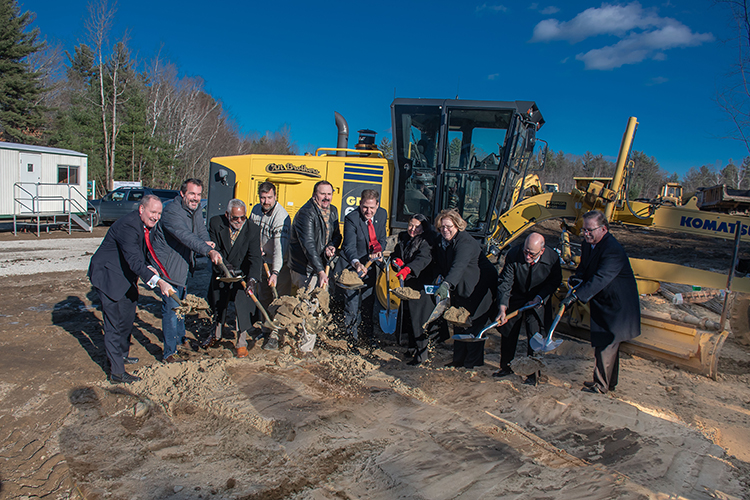 Photo, from left to right: HUD
US Department of Housing and Urban Development 
 Regional Administrator David Tille; Londonderry Town Manager Kevin Smith; State Rep. Al Baldasaro; Sanborn Crossing developers Timothy Kleiner and Steve Lewis; Governor Chris Sununu; Londonderry Senior Affairs Director Cathy Blash; State Senator Sharon Carson; State Senator Bob Giuda; New Hampshire Housing Finance Authority Executive Director Dean Christon. Photo credit: Justin Cross
High resolution image available here.
The groundbreaking ceremony for Londonderry's new Sanborn Crossing Apartments, a new 102-unit, age-restricted apartment complex, was held December 7th at 30 Sanborn Road. Each of the two 4-story buildings will have 51 units, with a total of 62 one-bedroom, and 40 two-bedroom units. The units will be affordable to senior households under 60% of the area median income. Sanborn Crossing utilizes green building technology and low-impact development methods, as well as cutting-edge stormwater management. Landscaping will include native plants, a walking trail system, rain gardens, and bio-retention basins for groundwater recharging. Financing for the project is through New Hampshire Housing Finance Authority, using tax-exempt bonds to provide primary loan financing, the Low Income Housing Tax Credit (LIHTC)
The Low Income Housing Tax Credit is a Federal housing assistance program through the Internal Revenue Service that provides tax incentives to owners of affordable housing. The program does not provide direct assistance to renters and is used to finance the construction (not the operation) of rental properties. Usually, LIHTC properties have units available for families earning 60% or less of the Area Median Income (AMI) and charge them lower than market rent. program, and a development subsidy through the federal HOME
HOME Investment Partnerships Program Program. The LIHTC
Low Income Housing Tax Credit (Housing Credit) program leverages private investment capital directed at affordable rental housing.
About New Hampshire Housing: As a self-supporting public corporation, New Hampshire Housing Finance Authority promotes, finances and supports affordable housing. NHHFA
New Hampshire Housing Finance Authority operates a number of rental and homeownership programs designed to assist low- and moderate-income persons with obtaining affordable housing. Since its inception, NHHFA has helped more than 45,000 families purchase their own homes and has been instrumental in financing the creation of almost 15,000 multi-family housing units.
Related Media