Home
2023 NH Housing Homeownership Conference – 3/8/2023 – Bedford
2023 NH Housing Homeownership Conference – 3/8/2023 – Bedford
March 08, 2023 | 8:00am - 12:30pm
Venue : Manchester Country Club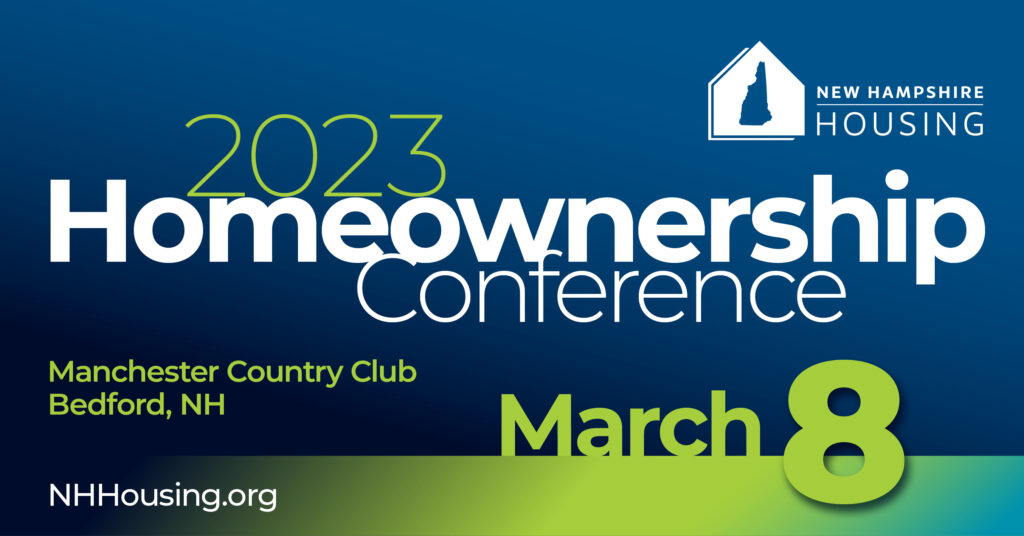 Presentations:
New Hampshire Housing Overview
Rob Dapice, NH Housing
Programs That Help Make Homeownership Happen
Julie Jussif, NH Housing
Will the Housing Market Spring Back in 2023?
Molly Boesel, CoreLogic
How Much Housing Does New Hampshire Need?
Heather McCann, NH Housing
Unlocking the Power of Prefab in Urban Communities
Brian Gaudio, Module Housing
BioHome3D: a Sustainable Approach to Affordable Housing
Evan Gilman, UMaine Advanced Structures and Composites Center
Making Employer-Built Housing a Reality
Maggie Randolph & John Randolph, Harmony Homes
---
New Hampshire Housing's Homeownership Conference is back in-person, and we are excited to see you there! Join us March 8th for a look at housing demand now and in the future, ideas about increasing the state's housing supply, and ways to keep homeownership affordable. Our conference offers time to connect with housing colleagues and ideas for strengthening homeownership opportunities!
Interested in being a conference sponsor? Other questions? Contact us at info@nhhfa.org.